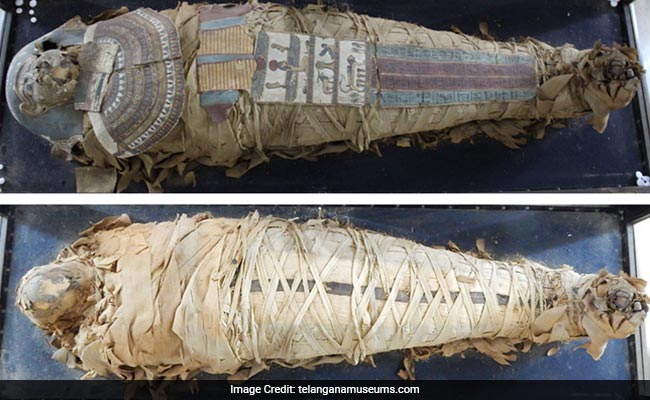 तेलंगाना की राजधानी हैदराबाद में स्थित राज्य संग्रहालय में रखी गई 2000 साल से ज्यादा पुरानी मिस्र की ममी को नष्ट होने के बचाने के लिए पुरातत्व एवं संग्रहालय विभाग ने बेहद अनूठी और उन्नत वैज्ञानिक तकनीकों का इस्तेमाल कर इसका संरक्षण करना शुरू किया है।
ममी का सीटी स्कैन और एक्स-रे टेस्ट
अधिकारियों ने दावा किया कि भारत में नष्ट हो रही किसी ममी के लिए पहली बार इस तकनीक का इस्तेमाल किया गया है, जिसमें सीटी स्कैन एवं एक्स रे परीक्षण शामिल है।
हैदराबाद के छठे निजाम लाए थे ममी
इस ममी को साल 1920 में हैदराबाद के छठे निजाम मीर महबूब अली खान ने प्राप्त किया था। उनके बेटे और अंतिम निजाम मीर उस्मान अली खान ने इसे संग्रहालय को दे दिया था और 1930 से यह ममी यहां है।
यहां रखी गई ममी देश के संग्रहालयों में संरक्षित रखी गई मिस्र की मात्र छह ममी में से एक है। पहले ऐसा माना जा रहा था कि यह ममी 16 से 18 साल की उम्र की लड़की की है और यह 300 ईसा पूर्व से 100 ईसा पूर्व टोलेमी काल की है। हालांकि अब यूथ एडवांसमेंट, टूरिज्म एंड कल्चर डिपार्टमेंट के सचिव बी वेंकैटशम ने संवाददाताओं से कहा, 'स्कैन से पता चला है कि यह ममी करीब 25 वर्षीय लड़की की है, जिसकी लंबाई 136 सेंटीमीटर है।'
दुनिया भर के लिए फायदेमंद होगी यह तकनीक
परियोजना के विरासत संरक्षण सलाहकार विनोद डेनियल ने कहा, 'यहां जो कुछ भी (तकनीकों का इस्तेमाल) किया गया है, उसका प्रयोग भारत में किसी ममी या मानव अपशिष्टों की संरक्षण परियोजना के लिए पहली बार किया गया है। यह भारत में अन्य ममी के संरक्षण के लिए उदाहरण है और ममी के संरक्षण के लिए अंतरराष्ट्रीय स्तर पर भी इसी प्रकार की तकनीक इस्तेमाल की जा सकती है।' उन्होंने बताया कि ममी को और नष्ट होने से बचाने के लिए ऑक्सीजन रहित बक्से में रखा जाएगा।
ENGLISH VERSION
The mummy of an Egyptian Princess was obtained by a Nizam in 1920

Telangana Museum using new techniques to preserve the mummy

Team found that the ribs were damaged, parts of the brain still intact
One of the six Egyptian mummies in the country is decaying. To stop its further degeneration, the Department of Archeology has started a project that will be a case study for such conservation across the world.

The mummy — said to be of Egyptian Princess Nishushu — was obtained by sixth Nizam Mir Mehboob Ali Khan in 1920. His son and last Nizam Mir Osman Ali Khan donated it to the museum, where it has been kept since 1930.

Initially Princess Nishushu was believed to have died at the age of 16 in the Ptolemic period — 300 BC to 100 BC. But a CT scan – done on very few mummies in the entire world — and X-ray examination revealed she was aged around 25 years.

The team also discovered parts of the brain, which were still intact – a great deviation from the process of mummification.

"One fourth of the brain is left inside. Generally, what we study theoretically is that through nasal hole the brain is taken out," said N Visalatchy, Director of the state museum. "This means there is more scope for scientific research and in fact, we tried to get the data from British museum also. They themselves do not have any."

It was found during the CT scan that her ribs were damaged and there was a slight dislocation of her spine and one ankle. The rest of her bones, skull and teeth are intact. It is likely that a metallic amulet has been placed inside her body, officials said.

"The damage to the mummy had happened due to heat, light, temperature, humidity, insects and oxygen," said Vinod Daniel, Heritage Conservation Adviser to the project. The conservation techniques adopted includes changing the case to an oxygen-free one, which will stop infestation of bacteria and insects and keep away humidity.

The techniques were used for the preservation project here for the first time. It can set an example for conservation of mummies in India and abroad, officials said.

"The kind of techniques they have used… probably one or two museums globally would have used," said B Venkatasham, secretary, Youth Advancement, Tourism and Culture Department. "After the CT Scan and X-rays, the mummy was brought back to the museum and has been placed on the newly-prepared base in the showcase."

The painted cartonnage — a material used to make the funerary mask — has been replaced in the proper position and the showcase has been sealed again, he said.

The next phase of the conservation will involve remedial measures and possible restoration of the cartonnage, so it can then be displayed in a special showcase, Mr Venkatesham said.